Sunday, April 24, 2005

Jardin des Enfants
After the Louvre yesterday we headed to Les Halles. My son has been asking to go to the Jardin des Enfants at Les Halles for quite a while. Jardin des Enfants is a really cool park for children aged 7 - 12. Last time we were there my son was 6, almost 7 and he wasn't allowed into the gated park.

The Jardin des Enfants is located very close to Saint-Eustache Church. It is a beautiful church that combines Gothic and Renaissance styles in its architecture. Richelieu and Moliere were baptized here.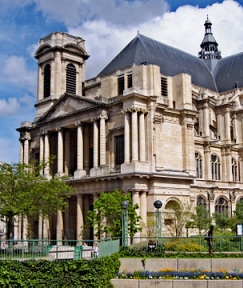 St. Eustache Church

At the Jardin des Enfants you pay 40 cents and the children are allowed into the park hourly. The children hand the guardian the 40 cents and you are told to come back in an hour to pick up your child. You can't stay with the kids once they enter the gates, but there are a few observation decks to watch your child have a great time. In this gated "kid city" is a climbing wall, a maze, a tunnel, and lots of slides. My daughter and I walked to the nearby park designed for younger kids. She wasn't happy to be stuck with the little kids.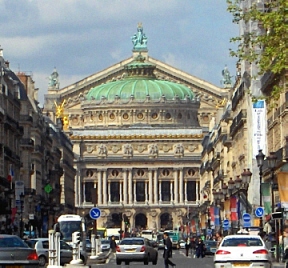 While I was walking around town yesterday, I took this picture of the Opera Garnier because it looked like the shot on my banner.

-- said Auntie M in Paris
10:49 PM

Comments:
40 cents sounds like just about the cheapest childcare a woman can come by, if you ask me. (That is, if it doesn't bother you that they are running loose in a public place... unsupervised...)
;)
#
posted by
Sammy
: 10:08 AM
Post a Comment