Thursday, May 05, 2005

Should We Stay or Go?
So, I left you, dear reader, at the decision point. Bombs had gone off and people were shooting at tour buses. Should we stay safely ensconced in our well guarded hotel in the middle of a desert or do we venture forth and see interesting things?
We decided to stay safe and spent the rest of the day at the hotel.
Attention Family Members, YOU CAN STOP READING NOW. The rest of the post is boring.
Ok, now that the family has stopped reading, we continue.
Bombs schmombs. After a good night's sleep and advice from some expats we met at the hotel we decided to go see the pyramids at
Saqqara
as we had planned. Saqqara is a necropolis, a big cemetery about 20 km south of Cairo. We didn't have to go through the city of Cairo to get there so it seemed like a safe destination. Plus, the expats offered helpfully, "Saqqara is big place, so you can run and hide ..."
We hired a taxi to take us there. The highlight of a trip to Saqqara is the Step pyramid. The Step pyramid is the first known monumental structure made of stone anywhere in the world and is considered the earliest pyramid. It was built under the reign of King Djoser (2667-2648 B.C.). There are six layers of stone, decreasing in size as the pyramid rises toward the sky. After Djoser, step pyramids developed into proper pyramids.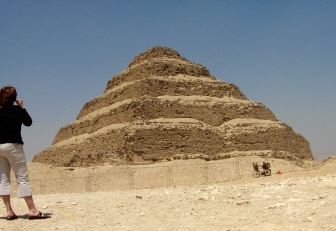 My husband took a digital picture while I took a 35mm picture of the Step pyramid. What I wanted to know is... who's bike is that??
At this plateau we also walked into the
tomb of Mereruka
, chief executive to Pharaoh Teti (who ruled circa 2323 to 2291 B.C.). Mereruka was also the son-in-law of Pharaoh Teti, whose ruined pyramid is diagonally across from this tomb. Mereruka's tomb, one of the largest with more than 33 rooms and hallways, was discovered in the late 19th and has now been restored. It's darker and a little cooler in here. The walls are covered with intricate 4,000-year-old carvings.
Also on the Saqqara plateau is the broken down
pyramid of Teti
, which you can actually enter. Since we didn't enter the medium pyramid at Giza because of the long line, we were glad to have an opportunity to enter Teti's pyramid. What an experience. First of all you have to bend over double to walk down the corridor (the kids loved it!). Once inside the burial chamber you can see Teti's sarcophagus. All around you can see hieroglyphics and stars chiseled into the walls. Amazing... But not something for people who suffer from bad backs or claustrophobia.
After Saqqara, our driver took us to
Memphis
, the ancient capital of Egypt. Memphis was founded about 3000 B.C. by the first pharaoh of Egypt. There isn't a lot to the area, but we were taken to a museum which houses the fallen colossus of Ramses II ....nearly 40 feet long... even without its legs. I thought it was just beautiful (I'm seriously addicted to statues at this point) and it was so amazingly well preserved. Ramses II face is just easy on the eyes...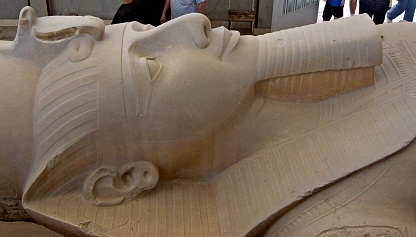 I hate to say Egypt was a trip of a lifetime because I might go there again someday.... but it was an amazing place. I have neglected to mention that the people were incredibly nice from the moment we arrived. My children made a particular friend with Ali, the lifeguard, who played with them, putting them on his shoulders in the pool and teaching them how to swim, just because he was a nice guy and there were no other people in the pool at night. To appreciate how much my children thought of him, my very shy daughter personally gave him an Eiffel Tower key chain we'd brought and allowed him to give her a kiss.
-- said Auntie M in Paris
12:32 PM

Comments:
What bohemianmama said.
Good for you guys! I would have done the same thing. (By the way I love the witty way you wrote it in this post...) There are some people who would have indeed stayed at the hotel. But when you figure all the stuff that can happen to you while doing seemingly mundane stuff, you just have to up your guard a bit and enjoy the experience.
That certainly is an interesting dilemma though, and I guess one that unfortunately more common today, but I'm glad you had such a fantastic time.
#
posted by
Joe
: 9:09 PM
Post a Comment