Monday, May 09, 2005

Provins
Well the in-laws arrived on Friday and my husband left on Saturday for a week of work in Africa! What to do this past weekend with the kids and grandparents? I had a couple of suggestions, and my mother-in-law liked best the idea of going to
Provins
.
I was excited by her choice, because it's been years since we took a trip to Provins and now the kids could appreciate it a bit more.
Provins
is a well-preserved medieval fair town with walled fortifications about 90 km south-east of Paris. In the 12th and 13th centuries, the Counts of Champagne offended the Kings of France by defying them from the Provins ramparts. The fairs of Provins were the most important in Europe and attracted cloth merchants from Flanders, spice merchants from the orient and many poets and intellectuals. However, wars, plaques and the slow disappearance of fairs led to the town's decline and its seclusion from many events in history. The good news is that because it was left alone, Provins is extremely well-preserved. In 2001, Provins became part of the
UNESCO's World Heritage
list.
Additionally, I had heard that Provins now hosted some interesting shows about Equestrian Falconry and Chivalry. I thought the kids would like to see one of the shows. When we got there the cashier gave us about 3 different brochures of information, in English, to review. There is a lot to do in this town. You could easily spend the whole day here exploring.
We ended up heading straight to the Equestrian Falconry show because it was starting shortly after we arrived. It's kind of pricey...34.80 euro for our group of 5 (3 adults, 2 kids), but it was a great show. It lasted 50 minutes and the kids loved it. The show was very entertaining, especially when the eagles, vultures and owls would fly right above our heads. I can't tell you how many times we ducked because we were convinced a bird of prey would hit us. My son also liked it when one of the bird keepers let a bird walk on his head.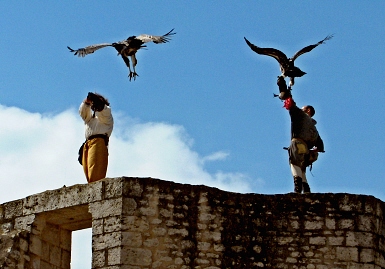 After taking the "petite train" around the town of Provins, we headed up to Caesar's Tower (legend was that Julius Caesar built this great tower of Provins -- but this was later disproved). The grandparents waited downstairs, ready to take pictures while I walked up the tower with the kids. Provins was fortified to protect the road to Paris from marauding invaders. Here is a view from Caesar's tower of the Provins countryside. On the right is the local church, Saint Quiriace, where Joan of Arc and Charles VII once stopped by for Mass.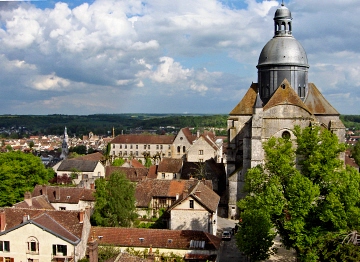 On the way out from the Falconry show, my daughter (after my son) decided to let one of the falcons rest on her arm.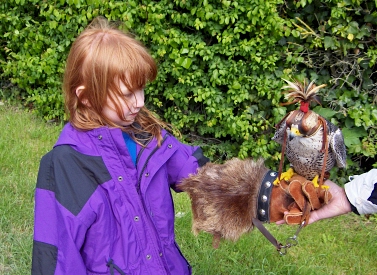 It took us about 90 minutes to drive to Provins because a large part of the trip is off the major highway. We all had a nice time exploring this medieval city with so much preserved history. Provins annual major event of the year is the
Medieval Festival
, on June 11-12 this year, when people flood the streets in period costume -- craftspeople, jugglers and troubadours -- recalling the days before plagues, politics and changing trade routes diminished Provins' importance.
-- said Auntie M in Paris
10:29 PM

Comments:
Hello !
Provins is well known in France as the political fiefdom of Alain Peyrefitte (1925-1999), one of the Fifth Republic's very, very big movers and shakers. A career diplomat, he was Mayor of Provins for 32 years (1965-1997), a
depute
, a Senator, a Minister several times in various Gaullist governments, and a widely-published author who became
immortel
, i.e., a member of the
Academie Francaise
, to which he was elected in 1977.
One of his major literary efforts is
Quand la Chine s'éveillera -- le monde tremblera
, which deals with China and its history (the title – "When China awakes, the world shall tremble" - is a quote from Napoleon Bonaparte, by the way). The book made a huge splash when it was published and educated French people of a certain age still refer to it at
les diners en ville
. It's a great, prophetic read if one is interested in China, although there are some gaps in his narrative, with hardly a mention of the Lao Gai (Chinese gulag system).
The inclusion of Provins on the UNESCO list is a direct result of Peyrefitte's efforts.
If you liked Provins, you'll love Cordes-sur-Ciel in the south, about 600 kilometers from Paris, down around Toulouse. It, too, is an old, old town on the rocky outcrop – with better weather (smile). Every year over the Bastille Day holiday (July 14), there are the
Fetes Medievales du Grand Fauconnier
("the Medieval Feasts of the Great Falconer"): parades, falcons, swordplay, dancing, games for children – a whole range of activities.
Thanks for this great report about Provins !
L'Amerloque
#
posted by
L'Amerloque
: 8:54 AM
Post a Comment