Sunday, May 08, 2005

Trocadero Park
I haven't talked too much about the fact that the kids have had the last two weeks off from school (school starts again tomorrow!). This week, we've been pretty exhausted from our trip last week to Egypt and haven't done a whole lot.

One day we stayed home all day and finally got up the energy to go out after dinner for a little walk to Trocadero Park. It stays light until 9pm now and the kids wanted to play in the park and then get some dessert... my son: a nutella crepe and my daughter: a vanilla ice cream cone.

After they played in the park and ate their desserts they explored the Trocadero fountain area. I took a picture of them climbing on the statues near the fountains. They were having so much fun together!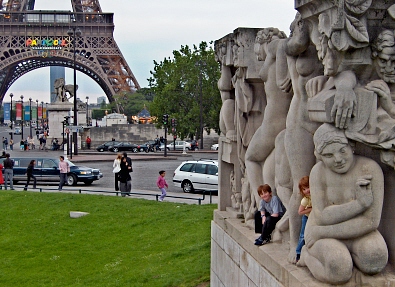 Happy Mother's Day to all in the US!

-- said Auntie M in Paris
6:34 PM

Comments:
Happy Mother's Day! Thanks for sharing your life as a Paris mom...do they have an equivalent to Mother's Day in France? Is this just an Amerikanski 'make-money' holiday?
#
posted by : 9:42 PM
Post a Comment