Tuesday, May 10, 2005

Gare de Lyon
Yesterday my mother-in-law wanted to check out the Viaduc des Arts. She had read my post about the arts and crafts ateliers there and wanted to see it for herself.

There are about 50 craftspeople on the Viaduct, creating works of art from wood, linen, tiles, bronze, paper, silver, stone, and iron. Unfortunately, it was Monday and many of the stores were closed and hosting workshops. We did have fun watching the people in the workshops creating art. It was a feast for our eyes to see all these interesting and varied pieces of art while window shopping. However, next time we are going back when we can actually walk into the stores!

When we were done with our walk we headed toward the Gare de Lyon to catch a bus back to arrive home in time to pick up the children from school. Although I've been to this part of town -- the 12th arrondissement-- a couple of times, I don't think I ever noticed the clock tower at the Gare de Lyon. It looked just beautiful yesterday. Maybe it's been recently restored?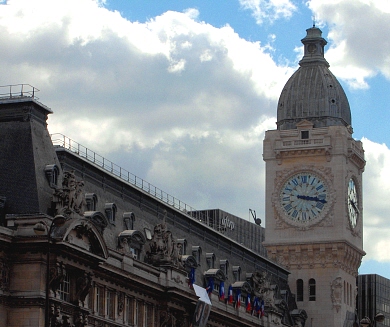 -- said Auntie M in Paris
9:50 PM

Comments:
Bonjour,
Vous avez raison : l'horloge de la tour de la gare de lyon avait ete endommagee par la tempete de dec. 1999. Des travaux de restauration ont masque la tour pendant plusieurs annees avant qu'elle ne soit devoilee il y a un mois a peine.
#
posted by : 11:21 PM
Post a Comment