Thursday, October 28, 2004

Date Night on Montmartre
Last night, my son came down with a high fever. Today he was still feeling ill in the morning, so I gave him some pain reliever and he felt great. He decided he felt so good he'd go to his afternoon soccer/football camp that we signed him up for every day this week. I was really relieved that he felt better. I was also glad because we've spent a lot of time home during the school vacation for Toussaint and I thought it might put me over the edge to stay in the apartment all day today -- especially since it was another nice day. I went early to pick up (it's three hours long) to make sure my son wasn't on the sidelines screaming in pain. If you think I'm exaggerating, you don't know my son. But low and behold, he was playing and having a great time. I thought it might be the medicine, but he wanted to go to the park after soccer with his friends and was quite happy. When my husband and I asked how he was feeling he said "I told you I'm fine, quit asking. " I've got to work on his manners!
Every Thursday night is my "date night" with my husband. When he asked me what I'd like to do this week, I told him "the same thing we did last year at this time." Last year we drove up to Montmartre and parked right in front of Sacre Coeur and ate dinner at one of the many brasseries next to the basilica. Since it's the holiday week, many people who live in Paris and drive have left town. Many tourists, without cars, have replaced the residents. So there are many parking spots. Once again, tonight we drove right next to Sacre Coeur and were amazed at how grand it looked. It was a chilly but clear night and the lights from the basilica made it majestic. Here's a poor replica of what we saw from our parking spot. The circle at the bottom right is the full moon out tonight.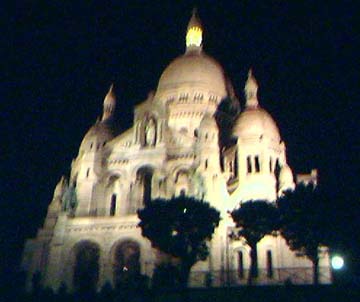 -- said Auntie M in Paris
10:05 PM

Comments:
Montmartre, la tour eiffel..;what nice places...
gianfranco ramoser
#
posted by Anonymous : 1:30 PM
Post a Comment