Wednesday, October 20, 2004

Don't Walk on the Grass
One of the first things I bought when I moved to town was a fun watch. When I was working, before moving to Paris, I had a serious watch. When I got to town I bought an Eiffel Tower watch. I love it and have worn it nearly every day for the last four years. It broke on Tuesday. I didn't realize how much I relied on my watch and I've been anxious to replace it. I finally went to the store this morning and bought the exact same watch. It's so pretty.
You can only buy this one in Paris, or so a previous Swatch salesman told me. The saleswoman today started speaking English to me. "You can return it within 2 years anywhere in the world." I chuckled, because I was thinking that as soon as a person hears my American accent, they speak English. I think she thought I laughed because I was offended and she said, "oh, do you speak French?" (yes, that is what I was trying to speak when I walked in.....) and then she spoke only French. My French class was cancelled today, so I needed some practice.

I took some pictures at the Jardin D'Acclimatation today. The Jardin is a wonderful amusement park for kids. So it always takes my American sensibility by surprise to see signs like these....
"The grass is fragile, don't crush it" and "Games with balls are forbidden"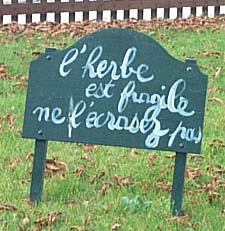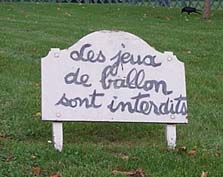 -- said Auntie M in Paris
10:18 PM

Comments:
My friend's Swatch band just broke, as well. She went to buy a new band at the store and she decided on the one with the cute frogs, in honor of the French.
I am still getting used to walking through a "garden" here and not seeing anyone on the grass. I was walking through the Jardin du Luxembourg and it always cracks me up to see everyone sitting in those chairs just on the edge of the grass. How do they control themselves not walk on it? It might have something to do with the person that I have seen who has the whistle and blows it at offending small children who have wandered onto the forbidden zone.
Jason
http://jasonstone.typepad.com
#
posted by Anonymous : 12:08 PM
Post a Comment