Monday, October 25, 2004

The Pumpkin Pinata
Yesterday afternoon I decided to throw my annual Halloween party afterall. I kept thinking I didn't have to this year because the kids were invited to two Halloween parties. But, my sister and her daughter, who live in the south of France near Montpellier, were in town. My sister has no American friends in her small town, so her daughter rarely attends parties with American themes. SO... at the last minute I called up 5 friends.. four of which were in town. SO... within twenty four hours, I had 11 kids to my place for a party. I woke up early to bake cookies. I went to the grocery store and bought pizzas for the kids lunch. I made a quiche for the moms. Then I frantically cleaned for an hour. After that is a blur. I go into party mode. The statue game when the kids stop when the music stops... the home-made pinata (my sister asked what it was... a pumpkin, thank you very much)... the treasure hunt and then some crafts. I never take pictures... who has the time. I hope the kids have a good memory because I won't be able to prove I did this stuff without pictures. After 5 hours, the last guest left. My sister was kind enough to get take-out Lebanese.. delivered for free. It was wonderful.
Yesterday we took the kids to the Trocadero park. It is one of our favorites because the kids play while we enjoy the backdrop of the Eiffel Tower. It was a lovely day. Someone mentioned the other day that leaves changing in Paris are beautiful, but they don't have the reds you find in the Northeast of the US. Maybe not, but the view is still wonderful.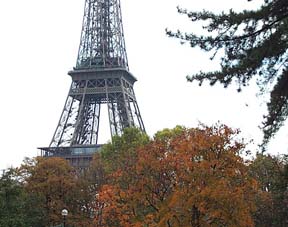 -- said Auntie M in Paris
7:13 PM

Comments:
Hey Auntie M-
Just call you SuperMom! A person who can throw together a party for several small children and their French mothers in 24 hours is pretty impressive in my book.
Sounds like it was a success. And don't worry about the pictures. If you keep reminding your children enough about the event, they will think they remember it, even if they do not.
Jason
http://jasonstone.typepad.com
#
posted by Anonymous : 9:46 AM
Only you have the talent to pull this off!
Brian
#
posted by Anonymous : 10:14 PM
Post a Comment